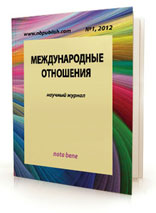 NotaBene Publishing House presents a quarterly magazine
The online publication "International Relations" has been published since 2012.
Certificate of registration (pdf)
ISSN 2454-0641


Dear readers!
The scientific journal "International Relations" is devoted to the problems of foreign policy, diplomacy, national security, political modernization of the system of international relations and the resolution of international conflicts.
The purpose of the scientific journal is to give our readers full coverage of events of international significance taking place in the world, their comprehensive scientific, analytical and expert assessment, to identify and investigate trends in the development of the global world, the formation of a new world order, a new platform and architecture of international relations.
As a scientific journal of academic profile, the journal "International Relations" pays special attention to fundamental research in the field of world politics and international relations, theory and methodology, conceptualization of new approaches to the peaceful resolution of international conflicts, promotion of the values of Russian civilization. The editorial board adheres to the principles of scientific objectivity and historical conditionality of political processes taking place in the world today.
As a foreign policy resource, the journal "International Relations" is primarily aimed at supporting the process of developing and making foreign policy decisions by the Russian leadership and those participants in international relations who share the position and views of the editorial board of the journal. In addition to this task, the magazine is designed to form and broadcast a positive image of Russia to foreign target audiences, for informational and analytical support of the country's foreign policy course and foreign policy actions carried out by Russia, to promote the development of civil and information society in Russia. We expect that the team of authors and readers of the journal will turn into an authoritative expert community in the field of international relations and global development.
We will be glad to welcome you, dear reader, to the pages of our journal and look forward to interesting, sparkling and intense scientific articles from our future authors. We urge you to join our efforts on the path to progress and develop Russian political science together!